Airfloors are key to achieving the remarkable energy-efficiency of Sun-Earth Homes designed by Watrous Associates Architects. An Airfloor unit is a piece of sheet metal stamped into a bowl shape, with an opening on each of four sides — like an igloo with four entrances. The completed size is 12″ x 12″ x 3.5″ high.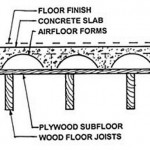 Hundreds of these units are hooked together on top of the home's subfloor, and regular concrete is poured 3″ deep over all of them. The result is a hollow floor which can be finished with wood, tile or carpet like any floor.
This floor system takes the place of first floor ducktwork for heating and cooling. In winter it provides a convenient way to store solar heat underfoot – providing a pleasantly warm surface. The Airfloor functions like a "heat battery" for the sun's energy. By using the fan (but not the burners) in the furnace, warm air heated by the sun is cycled many times through the floor. Heat is thus distributed to all rooms in the house, and the floor is "charged up" to radiate the heat into the house at night.
This type of air-powered radiant floor achieves the rapid heat up and cool down of a regular forced air system. And, unlike a hot-water powered radiant floor, it does not require a separate expenditure for an air conditioning system.
The Airfloor enables you to step out of your bed in the morning onto a warm floor, or to sit comfortably in a very tall room, where all the warmth tends to go to the ceiling. It is also ideal for a child's playroom, and so was used throughout the St. Benedicts Center for Early Childhood.
Technical Information
Information provided by Airfloor Systems Inc., Wheeling, IL
Energy Savings without Construction Cost Tradeoffs
Design Flexibility

Facilitates air flow in all directions
Suited to commercial and residential building
Slab on grade or multi-story
Modular construction on 12″ centers

Construction economy

Eliminate overhead supply ducts
Lower building heights
Precast or poured in place
Faster construction

Operating savings

Energy savings to 25% typical
Maximizes pass/active solar heating
Turns floor into thermal mass storage medium
Utilizes efficient radiant heating/cooling

Airfloor…

Provides a permanent, temperate, radiant, floor panel
Facilitates continuous window-wall air curtain supply
Insures draftless, silent, positive mechanical ventilation
Can be applied to any heating or cooling source
Requires no maintenance
Operates economically
Makes a natural comfort environment possible
Provides a natural storage sink for nocturnal cooling and solar heating