Watrous Associates Architects specializes in passive-solar construction. Our designs produce beautiful, light-filled and energy-efficient homes and businesses.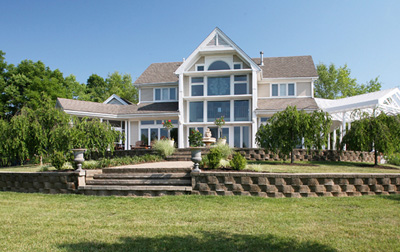 Since 1985, Watrous Associates has given clients the highest quality personalized service to ensure that the constructed space meets their unique expectations. Watrous Associates has set the standard in the Midwest for passive-solar designs for:
Plans available in various styles and sizes
Contact Us
Phone consultation available
Call (502) 776-7007
Newspaper Article
Watrous Associates was featured in The Courier-Journal, February 7, 2004 Home Section, showing the Fisherville Home. For photos click HERE.
Satisfied Customers
Gary's special knowledge and skill in passive solar design and super-insulated construction are elements that should commend him to any church building for the 21st century.

Rev. Lionel R. Lindsay, New Goshen Presbyterian Church
… exemplary design… Our analysis predicts that the house will consume only 28% as much [energy] as a typical house in the area.

Andy Walker, Engineer, National Renewable Energy Laboratory
You have managed to give me the house I wanted, keep within my budget and change me ever so conservatively. Thank you.

Gaelen Tadaro, Client
We were both impressed with your breadth of architectural knowledge… and particularly your sensitivity in getting to know us as individuals with different needs, wants and interests.

Faith and Jerry Huff, Clients
I would recommend Watrous Associates to anyone considering an expansion of office space or in designing new construction.

James R. Cundiff, M.D., President, Family Medicine Associates
Mr. Watrous led [our church] through a helpful and effective master planning study… the congregation of this church enthusiastically approved.

Pastor Dick Neely, Pewee Valley Presbyterian Church
The Harrods Creek Fire District can recommend your services to anyone… by the way, you were right and I was wrong. The skylights have not leaked and do provide additional free lighting for the common area.

Leonard Heydt, Chief, Harrods Creek Fire Department