Sun-Earth Homes
Sun-Earth Homes are custom designed by Gary Watrous, AIA, of Watrous Associates Architects P.S.C., a Louisville solar architectural firm. These homes are designed according to nationally recognized standards of DOE's National Renewable Energy Laboratory and the Sustainable Buildings Industry Council.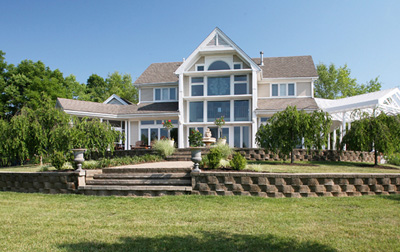 In 1994, Mr. Watrous received an award for energy efficient design from the National Renewable Energy Laboratory in Golden, Colorado. The energy-efficient features save 3 to 4 times more heat and cooling energy than a conventional house, yet offer great flexibility in the creation of a unique and comfortable living space.
Every Sun-Earth Home possesses state-of-the-art passive solar features, maintains competitive construction cost, and carries our performance guarantee.
Features
Super-insulated walls and ceilings that minimize energy bills in winter and summer
Passive solar systems that provide 30% to 50% of winter heat
Windows are placed to maximize solar energy capture and minimize energy loss
Open interior design provides bright natural lighting and a connection to the outdoors
A patented Airfloor system stores solar heat in the concrete subfloor and provides comfortable radiant heat in winter
Cost
Contractor's construction costs for these homes are in the range of $100 to $150 per square foot — typical of custom homes in Louisville.
Unlike conventional homes, in winter or even on cloudy days, the interior will be bright and cheerful with an unmitigated connection to its natural surroundings.
Unlike conventional homes, a Sun-Earth Home will pay you back for its construction cost — through savings on energy bills. Over the lifetime of a home, savings can equal the entire original construction cost.
Guarantee
Watrous Associates offers a written guarantee that your Sun-Earth Home will require much less energy to heat and cool than a conventional home of the same size.  Each guarantee is crafted according to the unique features of each Sun-Earth Home.